Skip to Content
A Guide to Getting Gigs: What to Do Before Looking for Gigs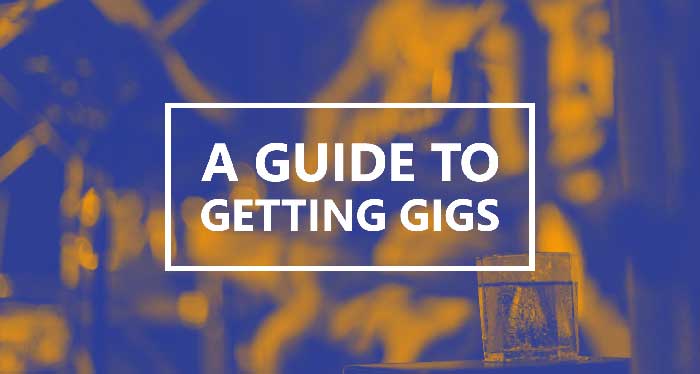 There are few things in life that are as rewarding as giving a live musical performance. The energy from the crowd and the thrill of seeing fans sing your song and dance to your rhythm has to be one of the more exhilarating parts of being a musical artist. Being on stage is exciting, however, getting on stage is a whole other hill to climb. Finding a gig can feel like an overwhelming task without the support of an agent or manager. If you're hoping to get booked on your own, here are 3 simple steps to help you land your dream gig.
Pre-Gig Hunting Prep
Before you can have a physical presence you'll need to have a digital presence. Be sure that anyone that might want to book you or your brand can easily find you online via a website, and at least 2 social media channels like Facebook, Vimeo, Instagram, or Soundcloud. Your website doesn't need to be a masterpiece but it does need to have a media page, your show schedule, photos and video, and the ability for users to provide their email to get updates. If a booking agent comes across your page they should be able to easily locate your contact information, so be sure to include this information on multiple pages of the website. Be sure to also have your best songs available in high-quality audio files that are in the mp3 format.
Build a Fanbase
Now that booking agents can find and research your music online, it's time to make connections in the music business and build your fanbase. If you would like to perform at a particular venue or event, make plans to attend their concerts as often as possible. Get to know the managers, staff, and of course get to know other musicians that are already on the stage you're hoping to stand on. Often times these people will have contact information for booking agents, managers, and other decision-makers that they might be willing to share with you. Don't be afraid to explore other circles of contacts that you might not currently be connected to, but would benefit from knowing. An example would be if you're always attending festivals to make connections, consider attending a music conference. If you are always attending night concerts, start attending a few day time concerts on another side of town. Often times we get so stuck in our routines that we continually meet the same or similar people, and become stagnant in our opportunities because we aren't meeting anyone new. Be sure that once you start making this connection you follow up and sincerely make the effort to build a relationship. You never know if one contact can lead to the right connection down the line, so be sure to nurture the relationships that you make, and focus on deeper connections rather than a high volume of shallow encounters.
What Gig Is Best For You
Spend some time thinking about what you want to achieve with your shows before you embark on your gig search. Do you want to gain exposure with a particular audience or gain experience with being on stage? Do you want a loud and busy atmosphere or something more intimate and quiet? Another key thing to consider is are you willing to perform at no cost for the opportunity to increase sales of your album and merchandise, or do you want only paid gigs? Even if you have an ideal scenario in your mind consider certain factors like indoor and outdoor venues and the effect certain surrounding have on acoustic sound. Time of day and year are also other important factors. Are you willing to play at an outdoor venue in the middle of the summer? What kind of attendance can you expect at a 6 pm concert versus a 10 pm concert on a Thursday night? All these factors will affect the conditions you'll be performing under, and possibly the size and type of audience that will see your performance. Landing a gig doesn't have to be difficult, but it does take some planning and strategy. If you follow these steps to ensure that your visible online, networking, and have a goal in mind as to what type of gig you'd like to book, you'll be setting those dates to perform in no time.
Find Out More
You may be wondering what exactly it will cost you to record your song or full-length album. The exact costs will depend on a variety of factors, including quality (demo or commercial release), how many instruments are involved, and whether you're well-rehearsed. To find out more about our hourly rates and get an estimate for your project, feel free to contact our team! today.