Skip to Content
Phone Tree Recording and Why Professional Recording Studios Are Your Best Choice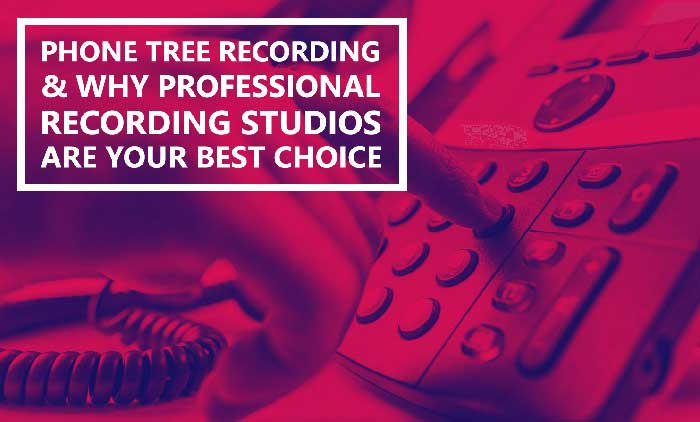 There are many reasons why you may want to create a professional-quality recording. You could have an audiobook that you want to upload to the internet to reach a wider audience. Perhaps you want to produce a sample audio mix of your voice acting talents. Maybe you are a business owner and are looking into automated answering services or phone trees. Whatever your reasons for needing a recording, you should consider the services of a professional recording studio for the project. There are many benefits to having the pros handle a voiceover for you. When it comes to phone tree recording services, Audio Realm Studios offers experience and quality results.
What Is a Phone Tree?
As an individual, you have likely used a phone tree and didn't even realize it. In the past, a phone tree was a system set in place for the quick spread of information, where one person called two people, those two people each called two more people, and so on until the information had reached all the necessary individuals. This was particularly common in emergency situations. Some emergency services and even schools may still use this method today, but in most cases, such calls are now automated to dial specific numbers and play a recorded message.
Another more common use for the modern phone tree is for phone menus. If you have ever called a business and received a voice recording that gave you a series of menu options, you have used a phone tree. The main menu asks you to push a button to reach a submenu or a particular department of a business or facility. Some menu phone trees are simple while others are more complex. If you are part of a business that has many different departments and not enough time for a single person to direct all of the calls coming in, a phone tree is a sensible solution.
Can You Record a Phone Tree Message at Home?
When it comes to business expenses, you want to save money wherever you can. It makes sense that you could save on recording costs by doing a phone tree recording in your own home or office. While you might be able to get an audible recording from this, it's not always advisable to do a home recording if you want the phone tree to sound professional. This is because recording speech is different than recording sound such as music.
You have to take into account not only background noise with speech recordings but also decibel levels and diction. On top of that, what if you wish for your phone tree message to be available in several different languages? Do you have the resources to find voice actors for recording your messages in these different languages? If not, it's time to look into professional voiceover recording studios to help you out.
Why Is a Professional Recording Studio a Better Option?
The greatest advantage of using a professional voice recording studio such as Audio Realm Studios is that we have access to all of the professional equipment and studio space to get a quality recording in one try. We already know the different approaches to recording speech for a phone tree menu, and our sound engineers can get that crisp, clear, and professional sound you're looking for. In addition to our technological resources, we can also point you in the right direction as far as looking for voice actors. We understand the importance of connecting with your customers, which means you don't want the first thing they hear on the phone to be a robotic, computerized voice.
Through voiceover recording sounds like a straightforward process, you also want to take into account editing. The recording and editing process can go much faster when it's done by experienced professionals. If you want your phone tree recording finished faster, we can help with that. If you are using a specific phone tree service, we can also make sure your recording meets the technical specifications for that service's recording requirements.
How Much Does a Phone Tree Recording Cost?
There are many factors involved in determining the cost of any recording project, so there is no one set price that fits every case. There are a few things you need to take into account in order to get an accurate cost estimate:
Length of the recording
Voice actor
Studio rate
Time for recording
Time for editing
First, how long the recording is will help to determine how much time the studio and voice actor is going to spend on the project. If you are hiring voice actors for the phone tree recording, you will need to know their rate. Most voice actors request pay-per-performance, which is basically an hourly rate. You can multiply the actor's rate by the number of hours spent in the studio recording to determine the actor's pay. The studio you choose to use will also have a rate for using their services. You multiply that rate by the time spent on recording and editing. You can talk to us directly to find out what the estimated rate is for your particular project at Audio Realm Studios.
You might again think you can save money by handling the recording at home, but you should also consider all of the services you are getting when you use a studio. We provide soundproof rooms with professional-grade microphones for the voice recording. You also have access to experienced sound engineers using professional soundboards and software. In addition, we take on the stress of recording and producing quality sound files so you don't have to worry about it. The end result is usually worth the time and stresses you save.
Where Can You Get Information on Voiceovers?
One of the best places to get information on voiceover projects is in consultation with a professional recording studio directly. Audio Realm Studios offers a variety of recording options, including commercial and voiceover services. Contact us with the specifics of your project to get an estimate on the time and cost required to have your professional recording produced.